i4 Rapid Data Entry Assistance
I / I Inspections, for many towns, have been occurring for some time and the backlog of information gathered from those inspections need to be catalogued quickly. i4 provides tools to facilitate rapid data entry. Much of the information, such as Inspection Type and Inspector, is repeated. Fields that capture such information are backed by tables and data entry is performed by selecting the choice from a drop down menu. This also assures that the information is entered / spelled correctly every time.
The previous page shows a sample Inspection form. Two of the fields are supported by such drop downs.
Date entry is helped by a Pop Up Calendar. Double clicking on the Scheduled, Inspection or Closed dates brings forth the calendar.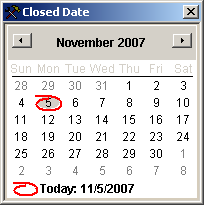 Violation Builder Wizard Double Clicking on a date field associated with a particular feature starts a cascading series of dialogs that quickly and accurately fill in all of the fields associated with the inspection of that feature.









Example. &nbsp Clicking on Unsealed Pump Inspection Date Field ...

Then, simply clicking on Potential, Violation or No. The builder Checks off Unsealed Pump, Enters the Date it was Inspected and marks the Violation check box accordingly.
Often there will be Violations that are simply corrected during the Inspection.


From there the Builder can Launch you directly into the Violation Form.



Information pertaining to the Violation can be entered and saved.

And, with just a few clicks, the informatin has been updated.


Conversion Services. If you already started collecting inspection data in a spreadsheet or other form of electronic storage then we can help you clean up and import that data into i4.
Back to Page 1 | Next on the tour: Page 2..
Advanced Government Solutions. (304) 799-3989. agust@govtsolutions.com